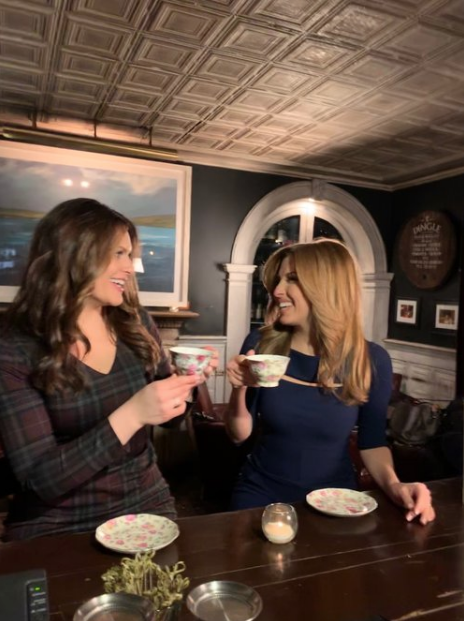 Washington may have been the first person to host a "cocktail" hour.
In a witness account from May of 1783, Washington was observed pulling out his watch and noticing it was near dinner time, "offered Wine And Bitters."
A colonial drink you can make at home:
Hot Spiked Apple Cider: Combine 6 c apple cider, 1 c rum, 2 star anise, 1/2 t whole cloves & 3 cinnamon sticks in a pot. Heat over medium heat for 10 minutes, until warm. Enjoy.
*Calvi toasts Washington with journalist Alex Denis at Fraunces Tavern in NYC. Colonial drinks & cuisine are cited throughout Calvi's novel.
Exploring the palate of Washington.
Washington's Tomato Bisque: Saute 1 medium minced onion in 4 T butter for 10 minutes. Add 2 T flour & cook for 3 minutes. Chop 2 lbs of peeled & seeded tomatoes. Add tomato, 1/2 t thyme, 1/2 t basil, & 2 cups of chicken broth to the mixture and simmer for 10 minutes. *Calvi with chef Josyane Colwell on WCBS-TV.
In a letter dated 1758, George Washington writes:
Tis true, I profess myself a Votary to Love—I acknowledge that a Lady is in the Case...
I feel the force of her amiable beauties in the recollection of a thousand tender passages…
…the World has no business to know the object of my Love…
Excerpts from Washington biographies:
Henry Cabot Lodge, 1889: "He was dined and wined in Philadelphia, and again in New York, where he fell in love at apparently short notice with heiress Mary Philipse…"
Jared Sparks, 1843: "The charms of this lady made a deep impression upon the heart of the Virginia Colonel."
Washington Irving, 1855: "That he was an open admirer of Miss Philipse is an historical fact."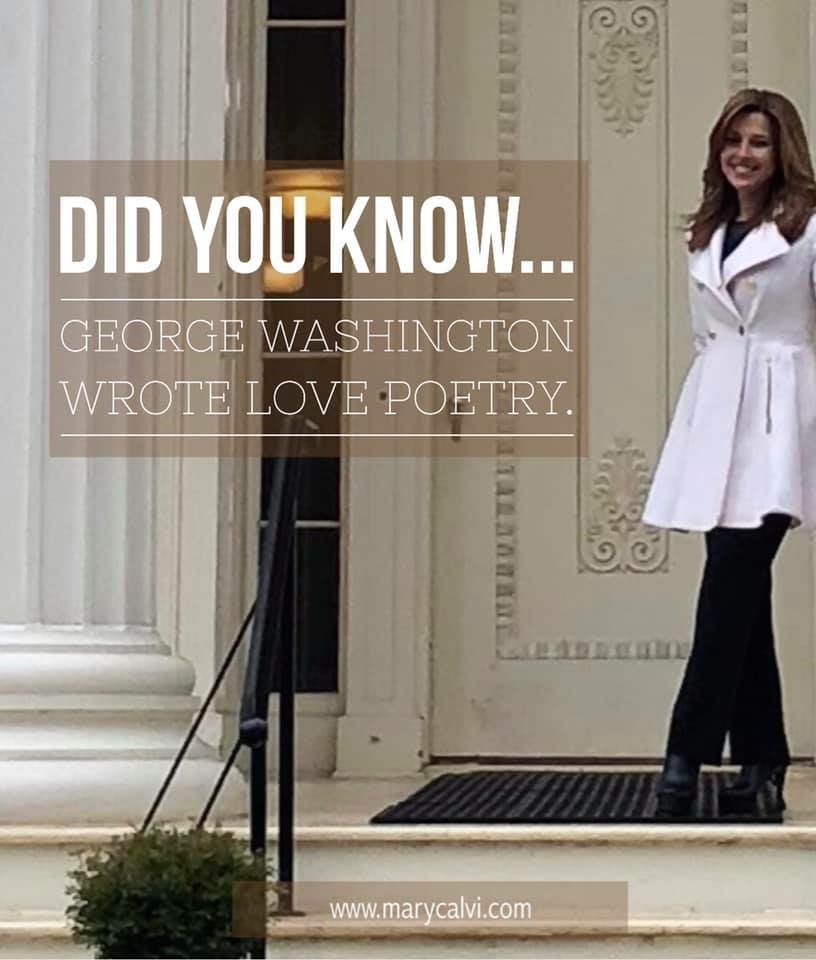 Poem written in Washington's journal, 1749-1750:
From your bright sparkling Eyes, I was undone;
Rays, you have, more transparent than the sun,
Amidst its glory in the rising Day,
None can you equal in your bright arrays;
Constant in your calm and unspotted Mind;
Equal to all, but will to none Prove kind,
So knowing, seldom one so Young, you'l Find.
Ah! woe's me, that I should Love and conceal,
Long have I wish'd, but never dare reveal,
Even though severely Loves Pains I feel;
Xerxes that great, was't free from Cupids Dart,
And all the greatest Heroes, felt the smart.